One of the most well-known manufacturers of high-tech timepieces is casio. With a strong focus on creating various electronic products, casio takes pleasure in providing ground-breaking digital watches that combine unmatched features, exceptional performances, and cutting-edge technical innovations. The Japanese company has concentrated on creating men's affordable watches with excellent functionality, cutting-edge technology, breath-taking design, and remarkable toughness throughout the years. Across multiple product lines, every casio watch is created to satisfy different client demands. You can easily buy watches online from various websites such as Give & Take, etc. Let's examine the features of the most significant product lines.
Let's have a look at the various kinds of Casio watches for men.
Casio G Shock Watch
The G-Shock brand was initially created in 1983 by Casio developer Kikuo Ibe. Ibe wanted to build a watch that could resist the harshest environments and yet be accurate and reliable. He created a number of cutting-edge features and techniques to do this, such as a special "double and triple protection" design that shielded the wristwatch from shocks, tremors, and severe temperatures. The DW-5000C, the original G-Shock wristwatch, was introduced in 1983 and instantly gained popularity among buyers. Engineer Ibe created the legendary casio G shock watch series in 1983 with the intention of creating a watch that could survive strong shocks, be water-resistant, and have a longer battery life. All of these crucial characteristics are still present in the G-shock series, particularly their resilience to vibration, shock and mechanical damage. In 1983, the original G-Shock made its debut and generated media attention.
Engineer Ibe, who designed it, set a challenging goal at the time: The so-called "triple 10" had to be complied with by a Casio G-Shock. It implies that it has to endure a fall of 10 meters, withstand water pressure of ten bars, and guarantee a ten-year battery life. Casio watches for men accomplished what once appeared to be an insurmountable task. Although the company has diligently enhanced and improved its products over the years, every new G-Shock watch nevertheless retains the same special qualities that set the first one apart from the rest.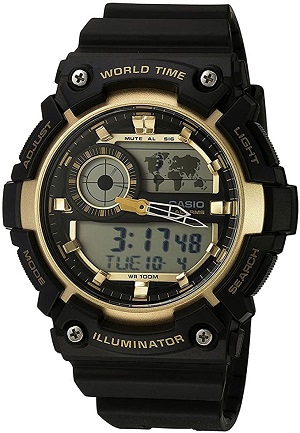 The casio pro trek series was created to meet the watch needs of active individuals who participate in outdoor activities. The Pro Trek watch range offers very accurate timepieces with modern technology. These men's affordable watches are highly accurate and precise, which helps active people with various trekking and traveling activities. Both electronic watches and watches with analogue dials may be found in the casio protrek watch range. In addition to these popular styles, casio also offers a selection of timepieces that combine analog and digital designs, hence providing clients with a wide selection to pick from.
The size of the most recent versions is smaller than previous models, and also the strap has a traditional look and feel, making a Pro-Trek more appealing to the eye. A older and heritage Trek's appearance does not, however, imply that its performance is lacking. Every watch has a triple sensor as standard, which comprises an electronic compass, barometer/altimeter, and temperature. Compass collection is the added feature in a Casio compass watch. Carrying a compass is a must-have item for anybody engaging in adventure activities like hiking or trekking. Casio included compass functionality to their watches for adventure sports after realising the necessity for it. The compass watch provided accuracy and precision while still performing the essential watch tasks in an equally effective way. Both the functionality and the design of these Casio timepieces are intriguing. These have an athletic and rugged appearance because they were made to perform the duties they do.
Summing Up
Today the world is more inclined towards the fitness and other such features which can be provided in a single device. So, every branded watches for men comes stocked up with a ton of features which would make your life comfortable and easy. In order to make sure that casio doesn't lose the race with the time, the Japanese giant made sure that that update their legendary watches and incorporate all the essential features that can be done to ensure their stable customers in the market.