Ladies if you think your search for wedding attire is limited to a classic salwar suit, you are mistaken. Salwar suits are suitable for all kinds of occasions, whether it is dressing for an intimate ceremony, being the center of attention at lavish wedding events, or having an ethenic dress for celebrations or pooja at home.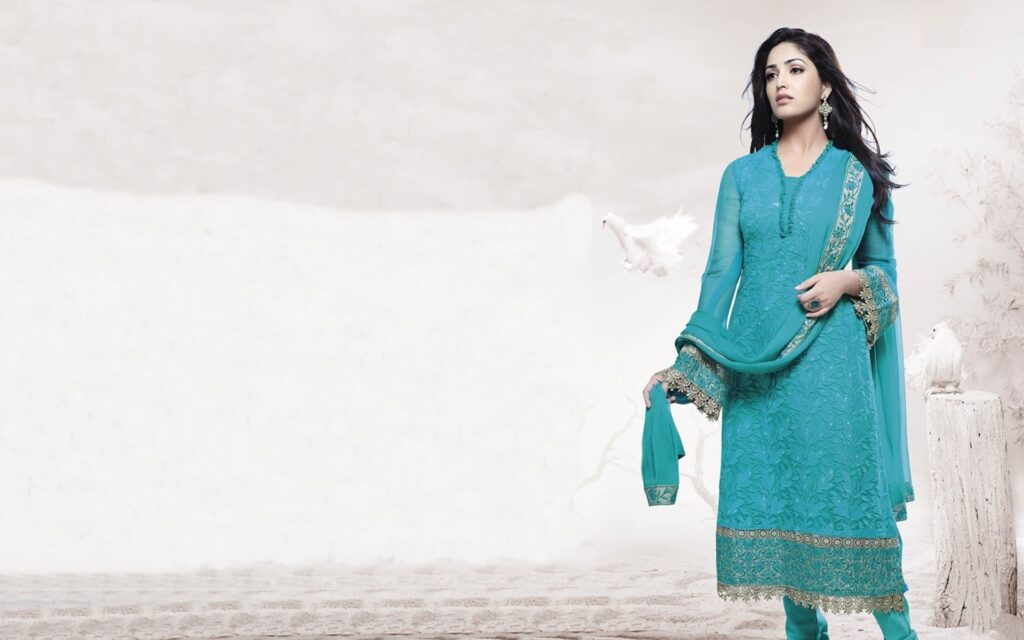 What matters most is how beautifully you carry the dress and become the talk of the family.
Traditional salwar suits
A desi Patiala or semi Patiala suit with a Punjabi touch will be most suitable for you if you want to look stunning this wedding season. You can select one in vibrant or daring color and you will be ready for all types of occasions including small traditional gatherings or a lavish destination wedding.
Chic in Sharara
This wedding season, sharara suits will look exceptionally well due to their alluring designs. Any edgy bride can get ready with it in fresh, ethnic vibes through her sharara suit for every celebration such as mehendi, sangeet function, or reception. A bride's impending engagement ceremony will be more appealing if you wear embroidered or heavily embellished sharara suit. You have the option of wearing shorts or peplums with cropped tops with sharara.
Beautiful Anarkali
The elegant Anarkali suit will take your heart completely. The Anarkali craze just won't go away for some reason. For your special occasions, pair it with skirts, palazzos, churidars, and more to achieve the perfect look.
Bold dhoti look
Your salwar will look more awesome pairing it with a dhoti. It is one of the most sartorial and stylish ways to show off your taste especially when you are going to attend a mehendi ceremony or ladies' sangeet night. Mirrorwork, tassels, and embroidery are such works that make a simple dress look adorable and fashionable.
The jacket suits
Your designer salwar suits will be adored by your family members and guests if you pair them with one stylish jacket suit whether you are sipping your cocktail or dancing the night. The most recent trends for bridesmaids and brides include jackets with flared net sleeves, long jackets with embroidery borders, and short-sleeved jackets.
Elegant palazzo
For pre-wedding occasions or evening events, your palazzo will be an ideal outfit for your occasion. The palazzo suit is what you should select if a classic suit looks boring to you and you also don't want to spend on an expensive but outdated fashion outfit. You must be enjoying these outfit ideas that would make good photos. You can take a break from traditional outfits on your special occasions by wearing an outfit with a twist. There are many different outfits available for women and brides to choose from if they prefer a salwar suit as their outfit.
A trending suit with a flared kurta
This combination of fitted pants and flared kurta or an ankle-length palazzo has become popular and is also known as an Anarkali suit. It enhances your look and is quite comfortable in hot and sticky weather. There is a wide variety of unstitched salwar suits are available in the market that can be stitched to perfection and you can make it stylish with your detailing. Anarkali suits are available in a wide variety and designs are available for every event and style. Check out this adorable mustard chanderi suit with flattering salwar and with a knee-length flared kurta for a formal family dinner.
Decision time
Party wear dresses are available in a wide variety of luxurious fabrics, patterns, and designs. Sarees fashion has been outdated and you can experience well-embroidered salwar suits for your family's wedding occasions. Explore more range of wedding season salwar suits exclusively at online sources.
[td_block_social_counter style="style10 td-social-boxed td-social-colored" facebook="tagdiv" youtube="tagdiv" twitter="tagdivofficial" googleplus="+tagDivthemes" custom_title="STAY CONNECTED" block_template_id="td_block_template_9"]